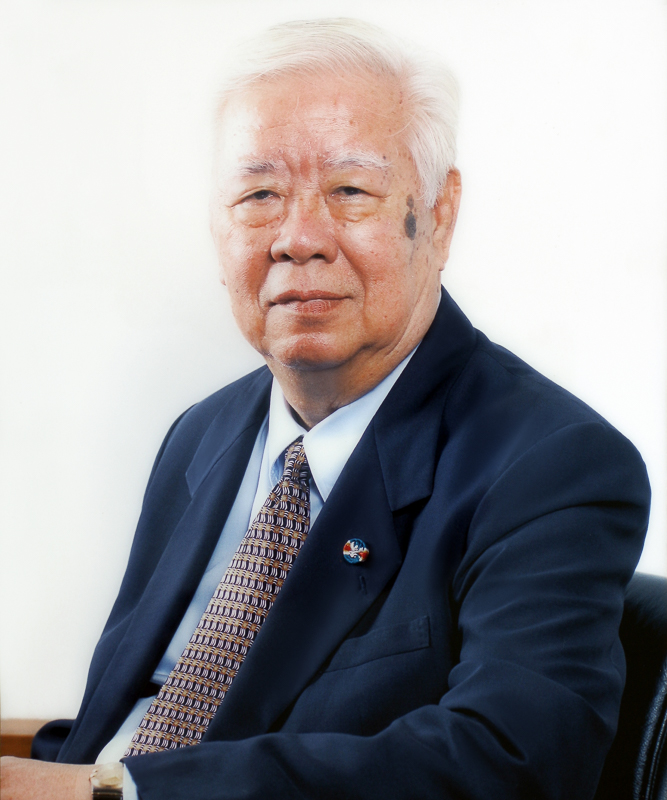 Biography
Dr. Manus Chirdkiatisak
Dr. Manus Chirdkiatisak (Sae Tiew, Chaozhou-Chinese) or 张汉荣 (Zhang Han Rong) is the third son of Mr. Hong and Mrs. Yong, born in Charoenkrung area of Bangkok in 1931. He has six siblings, including :
1. Mr. Nirat Niwatwas
2. Mr. Somsak Chirdkiatisak
3. Mr. Manus Chirdkiatisak
4. Mrs. Pailin Sujiratanavimol
5. Mrs. Srinuj Panwiwattana
6. Ms. Aimrasamee Chirdkiatisak

Dr. Manus is married to Mrs. Jintana Chirdkiatisak. They have six children, including :
1. Mrs. Sririrat Yoshino
2. Mrs. Nattanan Poopaibool ( Mrs. Aree Poopaibool )
3. Mrs. Wimol Weeraporasu
4. Mr. Anop Chirdkiatisak
5. Mr. Pisit Chirdkiatisak
6. Mr. Atuk Chirdkiatisak

Due to his kindness and compassion, Dr. Manus was well-respected by people around him whom mostly refer to him as 'Apa' which means 'Father' in Chinese.
Apa had been interested in trade and commerce since a young age. He would find items to sell his friends in Pittaya School during his early primary school years. In World War II, Apa briefly moved to stay with relatives in Bangbuathong along with his three sisters, creating close ties with Bangbuathong home. After the completion of Grade Four at the war's end, Apa became a worker at a local store in Songwad area while simultaneously learning English.
Gambling and drugs were typical lifestyles of young men in the district. Apa felt that his life will worsen if he continued to work in the area. With this in mind, he turned to work in the shipping service which, at that time ( 50-60 years ago ), was considered as a good career opportunity which can earn high income. Apa was often looked down upon because of his low education and lack of English competency. However, his determination and diligence have proven all prejudices false. He started this career by helping his brother in administrative work and promptly became proficient in the field and was well-trusted by clients and colleagues. Soon after, he took over the shipping business from his brother. As working in shipping business required expertise, Apa thoroughly taught himself trade and tariffs categories and regulations and became one of the very few people who were recognized by the Deputy Director of Customs Department at that time.
The shipping business was the business Apa most loved and most proud of. He would tell the story with contentment and remembered small details as if it just happened yesterday.
The shipping industry provided Apa exposure to various types of industries and an opportunity learn Mandarin. Among the industries was Stable Industry Group or Satiarapap Industry Company which was Thailand's largest ceramics manufacturer forty years ago. Apa represented their shipping of manufacturing machineries and created close ties with the CEO, Mr. Pongthep Julphaiboon. He often travelled with Mr. Pongthep to the factory and learned about the production process of ceramics. He also befriended with many notable persons in the ceramics industry, including Mr. Pracha Srithai of C-Thaicera, Mr. Suvich Napawan of Indra-ceramics.
With the knowledge in ceramics production acquired in addition to his extensive experience in the shipping business, Apa discovered an opportunity to export raw materials for ceramics production to Taiwan where he personally travelled throughout Thailand to explore the sights for raw materials and resources. This has inspired him to later set up a readymade/compound clay manufacturing company.
In addition to his expertise in the shipping business, Apa had also acquired skills as an interpreter and liaison with government agencies. At Stable Industry Group or Satiarapap Industry Company, Apa also occasionally worked as an interpreter for Japanese and Taiwanese technicians and salespersons of several companies such as MINO, TAKASAGO, HKK and TALI. He was also given a responsibility to coordinate and liaise with the government agencies on Satiarapap Group's behalf.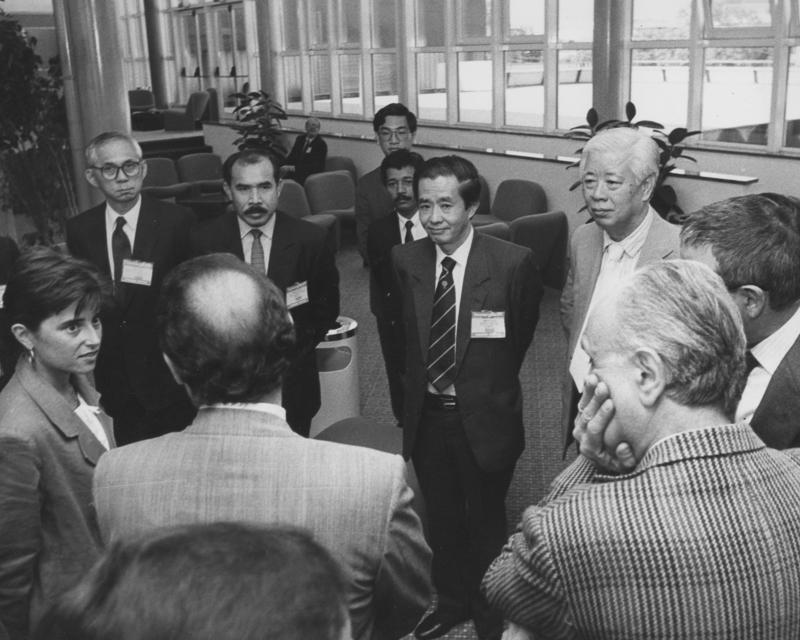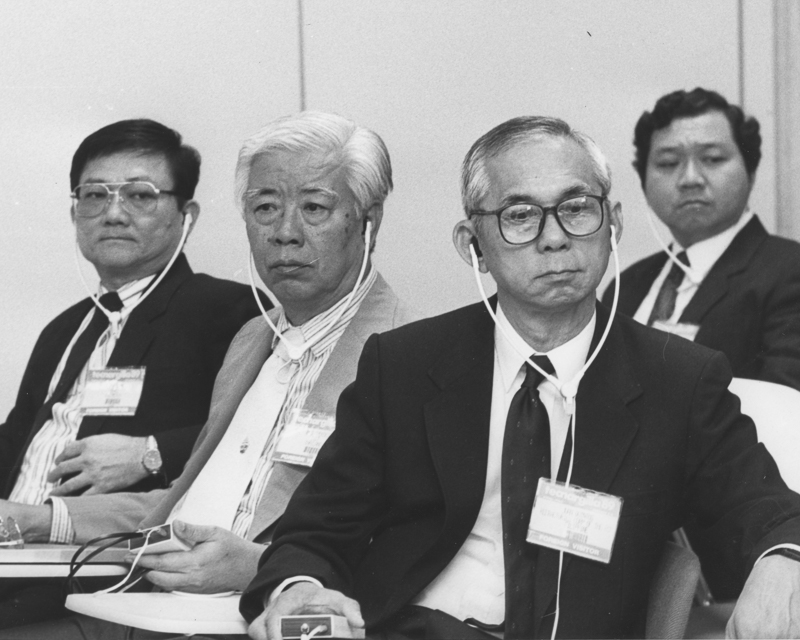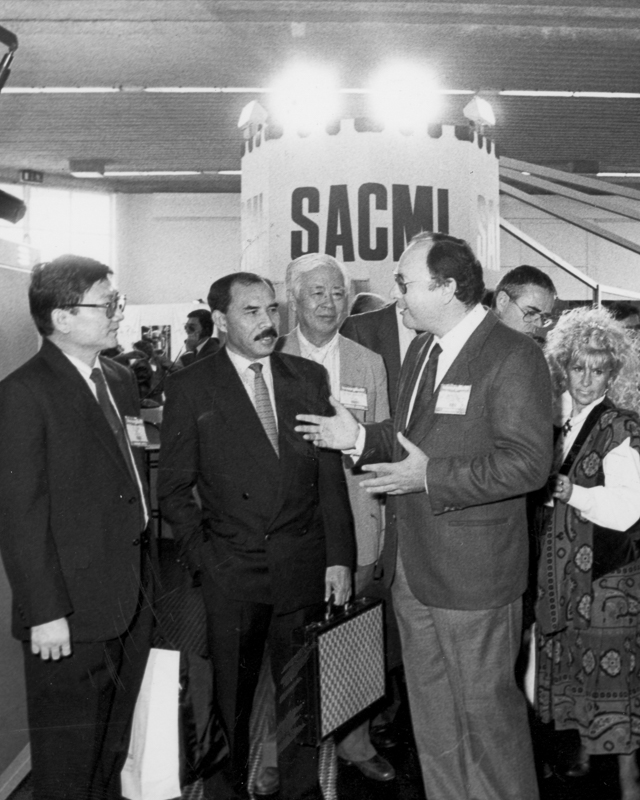 After Mr. Pongthep's death in 1971, Apa became less involved in Satiarapap Industry Group. In 1974, he and a group of traders in Songwad area established a ceramics company, Eastern Chinaware Co., Ltd. He withdrew himself from the company soon after.
In 1976, Apa launched Compound Clay Co., Ltd. with an idea to export compounded clays to ceramics manufacturers and insulators manufactures both in Thailand and overseas. With the shareholders' proposition, the company expanded to also manufacture and distribute units of insulators. In 1981, (at the age of 50) Asian Insulators Co.,Ltd. was launched. Apa invited Mr. Yamaguchi, a specialist in insulators production, to become the company's technical consultant. Apa also assigned Mrs. Aree and Mr. Sanan Poopaiboon, his daughter and son-in-law to be responsible for obtaining technical knowledge and expertise in the business. This was considered an important breakthrough in insulators manufacturing business in Thailand.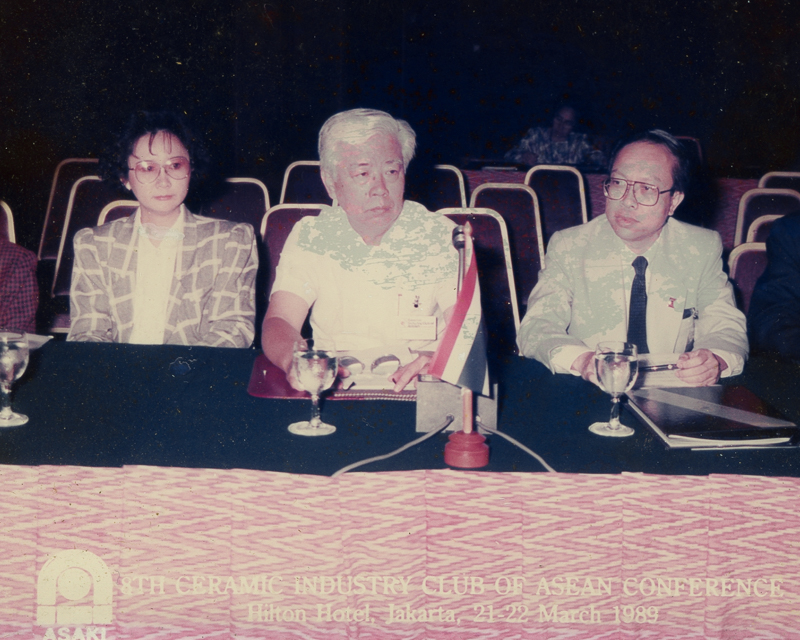 In 1989, Apa launched Fine Arts Ceramics Co., Ltd., home decorations manufacturer which later became an insulator units manufacturers, and Ceramics R Us Co., Ltd., which is an importer and distributor of machineries, raw materials, chemicals and refractory for ceramics ware. In 1991, he joined Taiwanese investors in launching Crown Ceramics Co., Ltd. In 1996, he became the sole shareholder of the company.
Apa loved and was proud of Crown Ceramics just as much as the shipping business in his early life. At the age of sixty, he dedicated most his time and knowledge to the company as it was the largest company of APA group. Crown Ceramics has now become one of the top three high quality ceramics manufacturer in Thailand and is well known in international markets.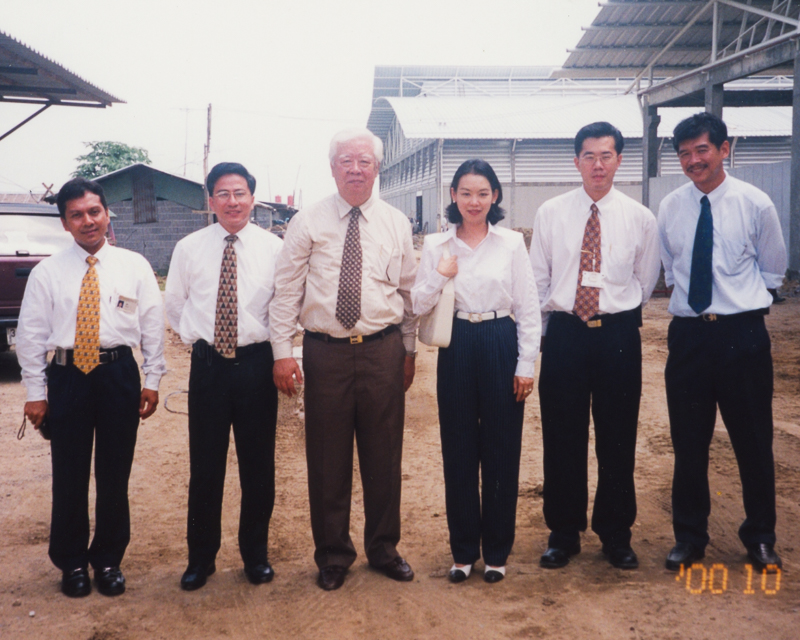 Apart from taking care of his own companies, Apa also took position of Chairman of the Ceramics Industry Group of the Federation of Thai Industries for two terms. While in position, he played a large role in encouraging the government to push forward a regulation to decrease tax for high quality raw materials for ceramics, allowing Thailand to better compete in the international market. He also played a leading role among ceramics manufacturers in Thailand in meetings, field visits and negotiations with ceramics industries throughout ASEAN, China and Europe. Many praised Apa as a very important figure in the ceramics industry.
Due to Apa's demonstrated knowledge, proficiency and experiences in addition to his immense contribution to the ceramics industry at the national level, the Faculty of Business Administration of Ramkamhaeng University has unanimously resolved to offer him the degree of Honorary Doctorate on Business Management. He has also received royal decorations.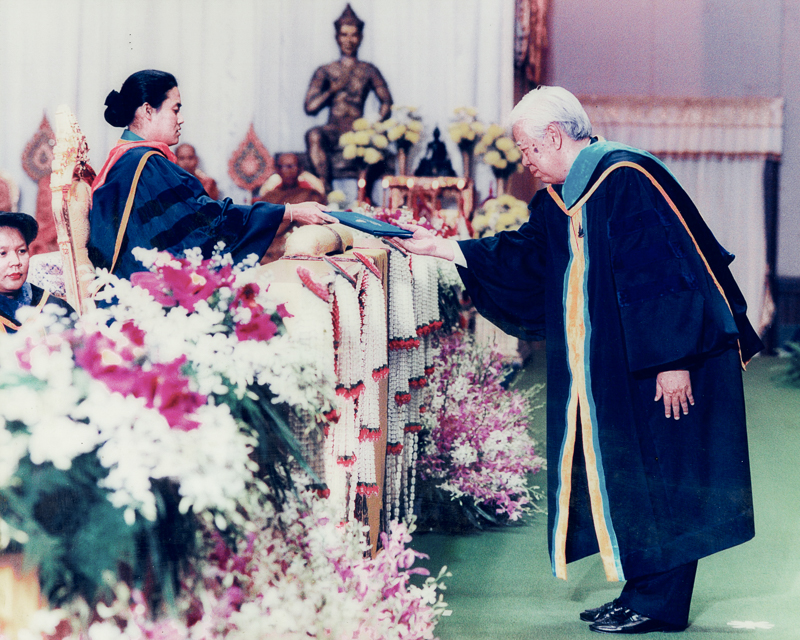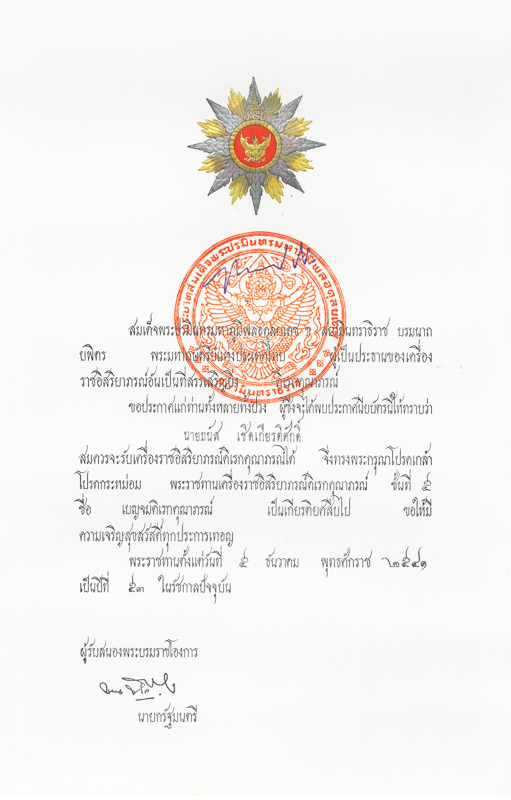 Based on the above account, it can be seen that Apa's strong determination, passion and sincerity in his work have proven that he has duly completed his role as a virtuous man.
He was a good son who expressed gratitude to his parents both while they are alive and after their passing.
He was a good husband who showed respect to his wife and remain faithful to the principle to return home every night, no matter how far he travelled.
He was a good father who provided for all his children to equally. Apa strongly believed in the importance of high education for both his sons and daughters. He gave love to all his children without bias. He also dedicated free time to his family, taking them to the beach and making stops along the route.
He was a good boss who showed respect to all his subordinates. Apa gave his subordinates equal opportunities and advice through their times of crises. He was a forgiving master. However, he never forgave his subordinates who were thugs, addicted to gambling and dishonest.
He was a good friend who was sincere to all his friends. He never betrayed them and supported them during the times of needs. This is why Apa had many friends throughout his life.
He was a good brother who took care of all his five siblings and helped them through their difficult times.
Above all, Apa was an active learner. Although he had only graduated fourth grade, he taught himself English, Mandarin, accounting, and budgeting among other technical and academic intelligence.
Towards the end of his life
It is evident that Apa was very passionate in his work. Though he delegated most of his work to his children towards his retirement years, he continued to look over the general management and policies of the companies. He worked every day and visited Crown Ceramics factory in Ratchaburi Province three times a week. In April of 2010, he travelled to China with the sales department to meet a new client. Apa was considered quite a healthy person though he underwent a cardiovascular surgery ten years ago. He only experienced minor leg pains during long periods of walking with is typical in people his age. He never had to frequently visit a hospital although he was at an old age. We all discretely believed that he would be long-lived.
In the morning of June 17th, 2010, Apa was to preside over an award giving ceremony of Five S's Activity at the Bangkok Office on the same day and made a plan visit China on a business trip in July. He was still as lively and as cheerful as usual. However, in the afternoon, he was not able to control his hand movement and was not able to write. His children immediately rushed him to the hospital. He was diagnosed with arterial thrombosis in the brain and spent four days at the hospital until his conditions improved. He returned home after that amid the relief of family members.
During his recuperation at home, he was able to eat normally and converse with visitors cheerfully. He also intended to visit the factory in Ratchaburi soon after his recovery. Everyone thought he was getting back to normal very soon. His children were making plans to improve his room for his better comfort. However, in the afternoon of July 1st, 2010, everyone was shocked as Apa collapsed while on the way to his room for an afternoon rest. He was rushed to the hospital after the heart attack, but Apa had already passed away peacefully with a smile on his face at 13.00. This ended Dr. Manus Chirdkiatisak's life of enduring determination, perseverance, compassion and eminence; a life to be remembered by the next generations at the age of seventy-nine.